Herb Brandt
Research Heraldry Herb Brandt
Herbarz Polski translation
Brandt herb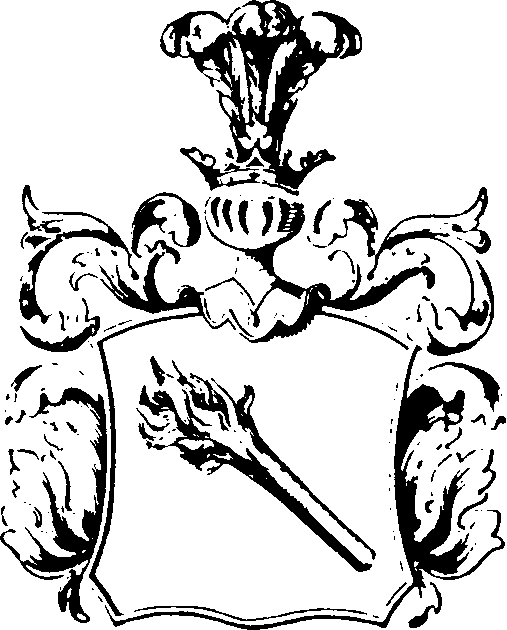 The following is a direct translation from the classical genealogical and heraldic reference "Herbarz Polski" by Kasper Niesiecki, S. J., Lipsk edition, 1839-1846.
There is a burning torch, black on an azure field, standing not straight up but inclined toward the shield's right side; there are three ostrich feathers on the helm, one red, one azure, the third yellow. Neither Paprocki nor Okolski wrote about these arms, but they are to be seen on various tombstones in Prussia. But where these arms come from, when and to whom they were conferred, I have not discovered in my reading. It is certain that these arms were used in olden times; the house of the Brants is particularly ancient in Pomerania district. From them Jedrzej and Krzysztof signed to the election of Jan Kazimierz. Stanislaw married Eufrozyna Bystram, the daughter of Tczew judge Krzysztof Bystram. MS Konopatsc. A Brant was the grandmother of Adryan Kitnowski, district judge of Pomerania. Although the manuscripts on Prussian families affirm that these are all the same house, still it seems that some of them who signed themselves as z Kąntk or z Hogendorfu used these arms in the form depicted at
the left, while others from Rokocin used them in the form shown at the bottom of the column. Some of them inherited in Kleszczew, others in Teszmerdorf. Piotr Brant was chancellor for Otton, prince of Brunswick [Braunschweig] and Luneburg. Jerzy z Hogendorfu had two sons by a Bombek, Michal and Achacy. Michal had a son Jedrzej by Luzyanska, and after her by a second wife had Asswer Brant, councillor to the prince of Prussia, and later supreme marshal of the Duchy of Prussia, famed for legations sent fortunately to Caesar and King Augustus. Heidekowna presented this Asswer with three sons: Jan, who had a son Asswerus; Wolf, who had sons and daughters; and Asswer, Prabuty starosta, and this latter lived with Polencowna without offspring. As for their sisters, one married Jan Polenc, the other Elsnic. Achacy, Michal's brother, had two sons: Jerzy, who sired by Machwiczowna one son and three daughters - of whom one married Malcher Kraiec, ducal chancellor, another married Jerzy Aurszwald, and the third remained a maiden at that time; and Fabian, who was survived by five sons and a daughter, the spouse of Fabian Milewski. In addition one Brant maiden married Heidek, another Szynich, a third Jerzy Sokolowski from Bystrzec, a forth Maciej Pisinski in Pomerania, and a fifth Jan Hondorf. Jedrzej Brant of Rokocin, not far from Starogard, was Tczew county judge, and he served no small time in Prussia for Olbrycht, Brandenburg margrave, who had given him for his services Kwidzyn starostwo and two villages of considerable extent and profit, Zebdrowo and Rozajny, by feudal right. Later he took to himself the sole daughter of Krzysztof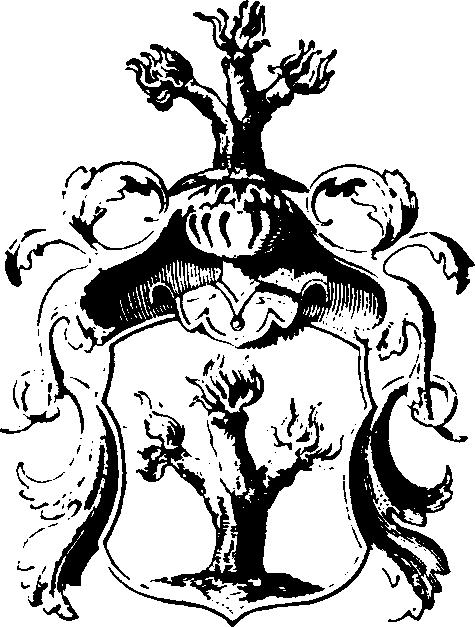 Rembowski, and took Rokocin with her: by her he sired two sons, Zygmunt (childless) and Henryk, to whom Polencowna bore two daughters, Anna and Elzbieta, and five sons, Krzysztof, Fryderyk, Zygmunt, Jedrzej, and Fabian. The information on this family comes from MS o familiach Pruskich, and these latter persons used the second coat of arms.
Copyright © 1990 William F. Hoffman. Used by permission. This article originally appeared in Polish Genealogical Society Newsletter (Vol. XIII, No. 1, Spring 1990), the bulletin of the Polish Genealogical Society.
;